Home Asia Pacific North Asia China


World's tallest Buddhist pagoda in east China
PTI, May 2, 2007
Beijing, China -- China has built the world's tallest pagoda in Changzhou city in eastern Jiangsu province, using special wood from Myanmar and Papua New Guinea.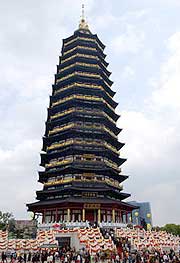 << The Tianning Pagoda in Changzhou. Photo: AP

The new Tianning Pagoda is 153.79 meters tall. The 13-storey Zen Buddhist pagoda is believed to be the tallest pagoda in the world as it is nearly 42 meters taller than the Shwedagon Paya in Myanmar and 7.2 meters closer to the heavens than the Khufu Pyramid in Egypt.

Construction of the pagoda, which occupies about 27,000 square meters and cost about $38.5 million to build, began in April 2002.

Tough wood from Myanmar and Papua New Guinea was used in the construction, while 75 tonnes of brass and gold went into the top of the building.

An enormous bronze bell, weighing 30,000 kilograms, graces the 13th floor. It can be heard from a distance of five kilometres, Xinhua news agency reported.

Tianning Temple, one of the four largest Zen Buddhist temples, dates from the prosperous Tang Dynasty. It has been destroyed and rebuilt five times in the space of about 1,350 years.

The current abbot of Tianning Temple, 70-year-old master Songchun, has long cherished the desire to rebuild the pagoda. He has spent more than a decade raising the funds.

Tianning Temple and monastery is not Changzhou's only claim to fame. The city on China's Grand Canal is also known for its ancient comb industry and a Dinosaur Park containing dinosaur bones and fossils from all over China.