Home Asia Pacific North Asia China


Cable ride to Big Buddha suspended after gondola plunge
By Dan Schlossberg, ConsumerAffairs.Com, June 12, 2007
Hong Kong, China -- With most schools on hiatus, summer fun for families features carnivals, cotton candy, and amusement park rides. Though such pleasures are supposed to be worry-free, that is not always the case.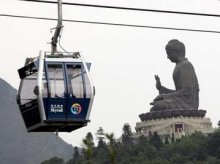 One of the top tourist attractions in Hong Kong has been placed on hiatus by the Chinese government after an unexpected accident.

No one was injured or killed, but the crash of an empty cable car did considerable psychological damage to the tourist-friendly city.

The gondola, part of a system that stretched three-and-a-half miles to a giant Buddha on Lantau Island, fell 165 feet to the ground during a test run on off-hours.

The incident was the latest in a string of mishaps for the year-old Ngong Ping 360, which has been plagued by breakdowns – some of them suspending passengers in midair for hours.

Had the cable car been full at the time, the most recent disaster would have been far worse.

Legislator Andrew Cheng, who specializes in the transportation sector, called the crash "unacceptable" and said, "Cable cars should have zero tolerance for accidents like this."

The owners of the system, MTR Corporation of Hong Kong, agreed and said the cable-car fall would be reviewed with "grave seriousness."

Many American resorts and amusement parks also offer gondola or cable-car rides, though virtually all are inspected regularly for compliance with safety regulations.