Home Asia Pacific North Asia China


Restoration of ancient buddhist temple begins in Tibet
CCTV.com, July 19, 2007
Xiahe, China -- Labrang Monastery is the highest Tibetan Buddhism Institute in the northwest of China. Now this three hundred year old religious center is undergoing its biggest renovation ever. Restoration work begins with an inspection of the buildings and paintings.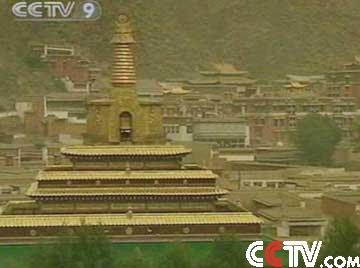 Tsinghua University's Culture Heritage Protection Institute was invited to carry out the restoration project - the biggest since the monastery was built in 1710.
Located in Xiahe, eight hours from the city of Lanzhou, capital of Guansu Province, the temple covers nearly 800,000 square meters. The monastery complex dominates the northern part of the village.
Featuring a blend of Tibetan, Han and Mongolian architectural styles, the monastery has 18 halls, six institutes of learning and a golden stupa among other beautiful old treasures.
The monastery also has nearly 60,000 sutras - the largest collection in China. More than 2,000 monks live here and the monastery is the center of Tibetan Buddhism for Gansu, Qinghai and Sichuan provinces.