Home Asia Pacific North Asia China


Shaolin temple show pulls tourists
CCTV.com, July 20, 2007
Henan, China -- Shaolin Temple, on top of Mount Songshan in central China's Henan Province, has long been shrouded by mist. The temple is famous for Shaolin Kong-fu - seen by many as the epitome of Chinese martial arts. Since last year, open-air performances featuring Buddhism and Kongfu have given tourists a fresh look at the ancient temple.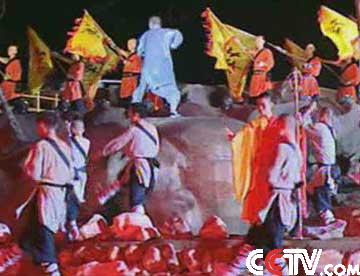 The show, called "Zen and Shaolin", is staged every night in a valley about seven kilometers from the temple. Six hundred monks from the temple showcase fabulous Shaolin Kong-fu moves and chant sutras.
This is the first open-air performance in Henan Province, and it has boosted local tourism considerably.
Yang Shengdao, director general of Henan Tourism Bureau, said, "The combination of Zen Buddhism and martial arts is interesting for the audience. The show is a great way to promote tourism in Henan - especially the Shaolin Temple."
With an investment of more than one hundred million yuan, or about 12 million US dollars, it's the first time a performance has been run by private companies in the province.
Wu Fumin, mayor of Dengfeng city, Henan Province, said, "The government granted approval and provided the location, and everything else was up to the companies involved."
Since its premier last October, more than 150 thousand spectators have watched the extravaganza, and box office proceeds have reached 1.5 million yuan.