Home Asia Pacific North Asia China


Buddhist Culture Festival lightens up Beijing's Longquan Temple
China.org.cn, Oct 4, 2007
Xishan, China -- Hundreds of Buddhists and swarms of visitors gathered in northwestern Beijing for the Buddhist Culture Festival that began Monday in the Longquan (or "Dragon Spring") Temple.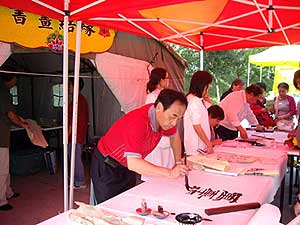 << Buddhists create calligraphy works for visitors to the Buddhist Culture Festival in Longquan Temple, during the Golden Week holiday
Located in the Xishan mountain range, the temple will host a number of activities to promote Buddhist culture, including opportunities to learn Buddhist songs, enjoy free vegetarian food, or receive medical consultation and treatment from volunteers.
Visitors can also get free prints of basic Buddhist teachings, video products, and works of calligraphy. These activities aim to demonstrate a Buddhist principle of giving without expectation of return.
The festival also includes a conference on Buddhism, which has a history of at least 2,000 years in China.