Home Asia Pacific North Asia China


28-year-old Italian converts to Buddhism in China
Xinhua News Agency, Nov 12, 2007
BEIJING, China -- A young Italian man converted to Buddhism in Nanjing on Saturday, becoming China's first Italian Buddhist, the Yangtze Evening Post reported.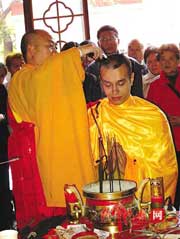 << Lucas, a 28-year-old Italian, became a monk at the Xuanzang Temple in Nanjing on November 10, 2007, becoming China's first Italian Buddhist. (Photo: Yangtze Evening)

Lucas, 28 years old, became a monk on Saturday at Xuanzang Temple, well-known for housing the relics of the master monk Xuanzang, who brought about the interaction of China and India in the early Tang Dynasty.

Lucas said he graduated from the University of Rome with a Master's degree in public relations. He can speak Spanish, English and Chinese, and he knows a little French, Japanese and Burmese too.

His desire to become a Buddhist was inspired by a film he saw two years ago, about how patriotic monks helped the poor during the Japanese invasion of China.

"I've been warned many times that life as a monk is quite a trial," he said, "for example, I can't get married according to the doctrines of Buddhism. But I agree with them."

In fact, leading monks at Xuanzang Temple didn't accept the young man until he passed one year of observation, to make sure that he hadn't made the choice on the spur of the moment.

Lucas also noted that he has been a strict vegetarian for three years already. In the future he will travel around the world promoting Chinese Buddhism and culture.