Home Asia Pacific North Asia China


Buddhist Sweet Symphony
Javno, Dec 29, 2007
Shenzhen, China -- A group of 28 monks from Shenzhen using wooden clappers, meditation gongs in sync with a western orchestra and chorus. The monks are practicing for a major concert at China's grand theatre.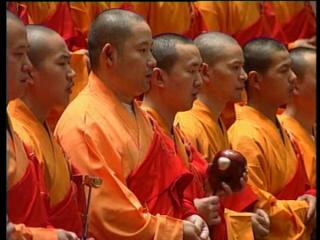 << A group of monks sing and perform in sync with a western orchestra and chorus in Beijing
Conductor Yu Feng says the two styles have more in common than people think.
"There is no conflict in leading both the Buddhist music and Western-style orchestra, because they both express religious feelings. A lot of religious music achieves great musical levels," Feng says.
The combining of Buddhist tradition and western orchestra is being viewed by the Chinese government as an echo of its concept of building a harmonious society. But China's religious official Xiao Hong says the government is not worried because of what Buddhism represents.
"All the good things from Buddhism belong to the entire human race; they are not exclusive to religion, so there is nothing we need to worry about," Hong says.