Home Asia Pacific North Asia China


Buddhist statue returned by Japanese religious organization
by Fan Changguo, Xinhua, Jan 11, 2008
Shandong, China -- A Buddhist statue stolen from Boxing County of Shandong Province in 1994 has been returned to the Shandong Provincial Museum in Jinan, capital of east China's Shandong Province.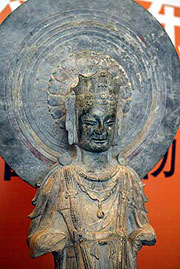 << Photo of Buddhist statue, taken on Jan. 9, 2008
The 120.5-cm-tall statue, carved in ancient China's Northern Wei Dynasty (386-534), is a state-level protected heritage.
The stolen statue was purchased legally at the price of 2 million US dollars by Shinji Shumeikai later in 1995.
After eight-month negotiation with China's State Administration of Cultural Heritage, Shinji Shumeikai finally promised to return this statue to China in 2007, after the 10th anniversary of its Miho Museum, where the statue was displayed.