Home Asia Pacific North Asia China


China admits Tibet monk protests
BBC, March 13, 2008
Lhasa, Tibet -- Chinese officials have admitted that Buddhist monks have been protesting in the Tibetan city of Lhasa this week.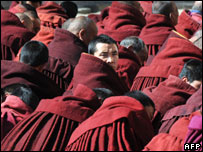 << Tibetan Buddhist at a ceremony at Labrang Monastery, Lhasa

Foreign ministry spokesman Qin Gang said the authorities had "stabilised" the situation.

Unconfirmed reports earlier this week said as many as 600 monks had taken part in rallies, and that police used tear gas and gunfire to disperse them.

Rights groups said the demonstrations were the biggest display of opposition to Chinese rule in Tibet since 1989.

"In the past couple of days, a few monks in Lhasa have made some disturbances in an effort to cause unrest," news agency AFP quoted Mr Qin as saying.

"Thanks to the efforts of the local government and the democratic administration of the temples, the situation in Lhasa has been stabilised."

But campaigners based outside China say the Tibetans in Lhasa are being spurred on by protests taking place in other Chinese provinces and in India.

"Tibetans inside Tibet are aware that Tibetans in India are marching towards the Tibet border," said Matt Whitticase from the UK-based Free Tibet Campaign.

He said protesters in Lhasa had been "emboldened" by the support they were receiving from across the world.

Beijing claims sovereignty over Tibet, which it has controlled since invading in 1950.

However, many Tibetans remain loyal to their spiritual leader the Dalai Lama, who fled in 1959 and currently lives in exile in India.