Home Asia Pacific North Asia China


Restoration wraps up at Potala Palace
CCTV.com, April 4, 2008
Lhasa, Tibet (China) -- Restoration work is nearing completion on one of China's most prominent landmarks -- Lhasa's Potala Palace. The work is part of an ongoing effort in the Tibet Autonomous Region. When the work on the palace is competed by year's end -- plans call for restoration to begin on other old temples and landmarks in the city.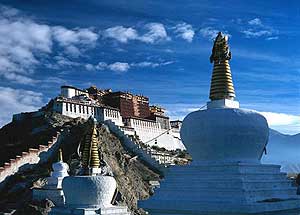 The restoration has been in progress since 2002. Nearly all of the badly weathered components of the ancient complex have been repaired or replaced.
Potala Palace was built during the Tang Dynasty around the 7th century. The local ruler Songtsan Gambo married Princess Wencheng. The Tang Empire princess brought Buddhism with her to the Tibetan plateau. The site has served as the administrative center of Tibet for centuries.
The palace grew continuously over the centuries, as thousands of Buddhist volumes and relics were brought there for safe keeping.
The ongoing project is aimed at strengthening the building's structure and foundations. At the same time numerous wall paintings are being restored. Nearly 200 painters are at work on the project. A scholar from the Dunhuang Grottos has been invited to supervise the work to ensure historical accuracy.
By the end of 2008, a new round of restoration will begin in Tibet. The focus will be the twenty-two major monasteries of Tibetan Buddhism. Over the past decades, more than 1, 400 temples and sites of worship have undergone restoration in Tibet.