Home Asia Pacific North Asia China


Tibet: Monks against forced "Re-education"
AGI/AFP, April 15, 2008
Lhasa, Tibet (China) -- An unknowns number of Buddhist monks have been arrested in Tibet for having oppose the forced "re-education" campaign launched by the Chinese orientated authorities after the brutal repression of the protests last month: this news was reported over the internet through the website of the Tibetan Centre for Human Rights and Democracy.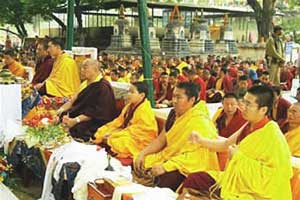 According to the website, last weekend a group of "patriotic re-educators" were sent to the Drepung monastery at the gates of the capital Llasa, in order to force the monks to accept the supremacy of Beijing and, in particular, forcing them to denounce the Dalai Lama as a separatist and a liar; many monks resisted, and for that reason they were "immediately arrested by the security forces and taken away to an unknown destination".
An anti-Chinese demonstration in the monastery at Drepung was also confirmed to have taken place by another humanitarian organization, The International Campaign for Tibet, according to whom the protest was triggered by the when the Chinese agents stopped the monks from leaving the temple to go and ask for food and charity.