Home Asia Pacific North Asia China


Maintenance on Sakya Monastery to finish next spring
People's Daily, December 3, 2008
Xigaze, China -- Housing substantive Buddhism scriptures and frescos, the Sakya Monastery, located in the Sakya County of Xigaze Prefecture, is honored as "Second Dunhuang". Since 2002, the monastery has been undertaking several maintenances at a huge cost.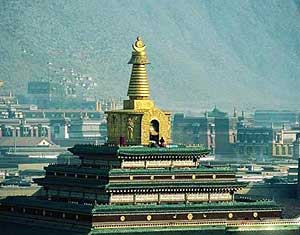 << The 86-million-yuan repair project of Sakya Monastery has by far been finished 80 percent and will come into an end early next year. (Photo: eng.tibet.cn )
According to Dorje, who is responsible for the repair project, renovation of Sakya Monastery mainly focuses on protection of frescos, reinforcing of Aga soil, a kind of soil formed in the drought grassland in temperate zone, enhancing of Baimacao wall and replacing of indoor timbers.
Dorje said the renovation was carried out without changing of its original feature, which won yea from locals.
The maintenance project of Sakya Monastery, is a part of the "three cultural relics maintenance project" in Tibet, which costs 330 million yuan, and requires the most investment, highest technology and covers the largest renovation area in highest altitude among the three.
Found in 1073, the Sakya Monastery is the main monastery of the Sakya sect of Tibetan Buddhism and was inscribed into the state level protection cultural units in 1961.