Home Asia Pacific North Asia China


Famed Silk Road grottoes in China get fewer visitors
Xinhua, Dec 29, 2008
LANZHOU, China -- The global financial crisis has slashed the number of tourists to Dunhuang, a Silk Road city and home to historic Buddhist grottoes, city tourism bureau chief Gong Ying said on Monday.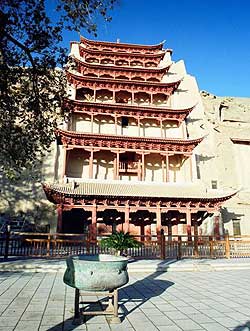 Gong said domestic tourist arrivals were likely to decline 30 percent this year, with those of foreigners down 40 percent.
Dunhuang, in northwest China's Gansu Province, had 1.4 million tourists last year, including 100,000 from overseas.
Gong said major natural disasters, such as prolonged snow early in the year and the devastating earthquake in May, had also affected tourism.
"We are not optimistic about the market next year, as the financial crisis is worsening," he said.
The Mogao Grottoes, a UN-listed World Heritage site known as the Cave of a Thousand Buddhas, received fewer than 100 tourists daily, compared with an average of 1,500 per day last year, the official added.
Gong said the bureau will tap the Taiwan market next year, to take advantage of cross-Strait direct air and sea services that began earlier this month amid warming ties.
A 261 million yuan (about 38 million U.S. dollars) rehabilitation project began on Monday to protect the fragile ancient paintings and sculptures.