Home Asia Pacific North Asia China


Monlam's colourful enlightenment
The Independent, February 5, 2009
Lhasa, Tibet (China) -- Taking place on the 4th-11th day of the first Tibetan Lunar month, Monlam, the Great Prayer Festival, is one of the most important festivals in Tibetan Buddhism. Pictures of this year's festival display the spectacular processions and colourful outfits of Tibet's Buddhist monks.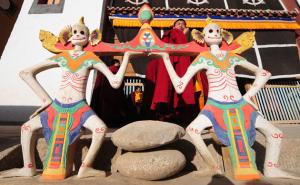 << FREDERIC J. BROWN/AFP/Getty Images


Standing behind an ornately designed blowhorn holder, Tibetan Buddhist monks at Gomar Gompa (monastery) in Repkong await for the start of ongoing celebrations of Monlam.



The Monlam festival was established in 1409 by Tsong Khapa, founder of the Geluk (Yellow Hat ) tradition and is considered the greatest religious festival in Tibetan Buddhism, with performances of masked dancers, known as Cham, always attracting large crowds.

It is said to commemorate the Buddha's spiritual victory over the forces of ignorance, anger and greed, and his attainment of enlightenment. Pilgrims from all over Tibet take part in the festivities, which includes prayers and teachings, at monasteries throughout the region.

The festival was banned by China's Communist authorities during the Cultural Revolution, though it has continued to be revived and celebrated. Reports this year have suggested further threats from Chinese authorities warning Tibetan Buddhists against taking part in the annual prayer at the Labrang monastery.





About Us
Get Breaking Buddhist News in your Email. Free subscription.

Please help keep the Buddhist Channel going

Point your feed reader to this location
Wikipedia: Buddhism by Country
Sangha Directory
Ecards
Wallpapers
E-Library
Archives
Sitemap
Submit an Article
Write to the Editor
Affiliation Program