Home Asia Pacific North Asia China


Buddhist monks pray for world peace
The examiner, March 4, 2009
Lhasa, Tibet (China) -- Over 300 Buddhist monks are praying for world peace over the next four days in India, Nepal, and Tibet.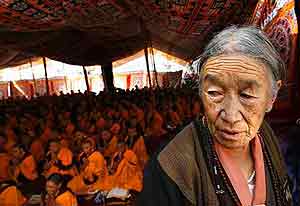 This prayer event follows recent protests in Tibet and a vigil held for the anniversary of a Chinese military crackdown in Tibet in March last year.
The prayer event coincides with the traditional Monlam or "Great Prayer" Festival, currently banned by the Chinese government in Tibet.
Travel to Tibet has been limited since March of last year and was recently sealed off completely due to the upcoming 50th anniversary of China's occupation of Tibet.
During the Tibetan uprising of 1949, the Chinese military seized the Tibetan capital, Lhasa and asserted its claim to the territory. The Dalai Lama fled to India where he and many Tibetans remain in exile today.
Journalists and foreigners will not be permitted access to Tibet until the anniversary has passed.