Home Asia Pacific North Asia China


Buddhist stone carvings found in Qinghai's Tibetan area
People's Daily, October 23, 2009
Qinghai, China -- Buddhist stone carvings over a large area have been discovered in Yushu Tibetan Autonomous Prefecture, southwestern Qinghai Province, according to the Qinghai Provincial Bureau of Cultural Relics.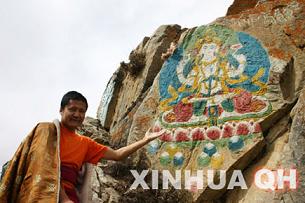 Experts believe that the new discovery will shed light on the study of the history and development of the Gelug Sect (Yellow Sect) of Tibetan Buddhism.
The stone carvings were found during the third national survey of cultural relics conducted in Qinghai Province.
The stone carvings, found on four lime rocks, feature the images of Goddess of Mercy with Thousand Hands, thousand Buddhas, Tara, Tsongkapa, and Padmasambhava, as well as Tibetan inscriptions.
The carvings are scattered over an area of 1,000 sq m, with the largest one featuring the image of Goddess of Mercy with Thousand Hands and the scene of transmigration in six ways. It is six meters long and three meters wide.
A Staff of the survey team concluded that the making of such stone carvings began in the Ming Dynasty (1368-1644) and continued in the Qing Dynasty (1644-1911), and was related to the history and significance of the introduction of the Gelug Sect of Tibetan Buddhism to the area.