Home Asia Pacific North Asia China


Ancient Buddhist monastery conserved in SW China's Tibet
Xinhua, Nov 12, 2009
LHASA, Tibet (China) -- First-phase of the project to conserve a more-than-1,000-year-old Tibetan Buddhist monastery in Ngari prefecture of southwestern China's Tibet Autonomous Region has been completed, and the second phase will begin soon.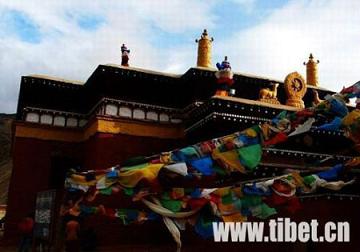 << Located in the Khorzhak Village, Burang County, Ngari Prefecture, the Khorzhak Monastery is a renowned monastery of the Sakya Sect of Tibetan Buddhism. It was founded by the great translator Rinchen Zangpo in 996 AD.(Photo: tibet.cn)
Tsering Tashi, head of the prefecture's culture bureau, said Thursday that the second phase will focus on restoration and consolidation of monk dormitories and residential buildings of civilians surrounding the Khorchak Monastery.
The first phase, which began in October 2008, featured restoration of two main halls of the monastery, including anti-infiltration treatment and consolidation arrangements for the roofs, according to Tsering Tashi.
The original styles and features of the monastery have been maintained in the conservation project, which costs 15 million yuan (2.2 million U.S. dollars), he added.
Located in Khorchak village of Burang county, the monastery is a well-known one for the Sakya Tradition of the Tibetan Buddhism. Built in 996, it boasts profounding influence among the Buddhist followers in Ngari prefecture and the nearby Nepal.