Home Asia Pacific North Asia China


Indian President dedicates Buddhist temple in China
Sify News, May 31, 2010
Luoyang, China -- Visiting Indian President Pratibha Patil Saturday dedicated a Buddhist temple, built with Indian assistance, to the Chinese people.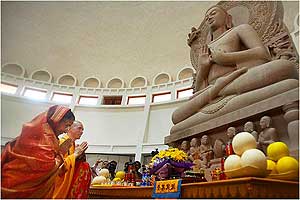 << President Pratibha Patil offering prayers at White Horse Temple after inaugurating an Indian style Buddhist temple in Luoyang on May 29, 2010 during her visit to China.
The structure is adjacent to the White Horse Temple (Baima Si) built in the first century A.D. in honour of two Indian monks who travelled on horseback, carrying with them religious texts and an image of the Buddha.
As she entered its premises in this city in Henan province, she was welcomed by Buddhist monks in yellow robes. The temple has a dome that 63 feet high and 80 feet in diameter and has a 16-feet tall statue of Buddha in a preaching position.
Indian officials say it is modelled on lines of the Sanchi Stupa in Madhya Pradesh.