Home Asia Pacific North Asia China


Buddhist temple at destryoyed royal garden renovated
Xinhua, Oct 9, 2010
Beijing, China -- A Buddhist temple, the only ancient building complex that remained standing at Beijing's Old Summer Palace, or Yuanmingyuan, has been renovated and will open to visitors before the end of this year.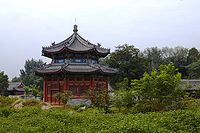 << The rebuilt Wen Shu Pavillion of Zheng Jue
Zhengjue Temple was built in 1773 as the main place of worship for Qing Dynasty (1644-1911) emperors in the former imperial garden. Its name means "grand inspiration."
It was seriously damaged in 1860, when British and French troops plundered Yuanmingyuan.
Renovation of the temple began in 2002 and has cost about 45 million yuan. The structure covers nearly 27,000 square meters.