Home Asia Pacific North Asia China


China releases tortured Buddhist nun
CathNews Asia, December 1, 2010
Sichuan, China -- Chinese authorities have released a Tibetan Buddhist nun who was imprisoned for three years and suffered torture.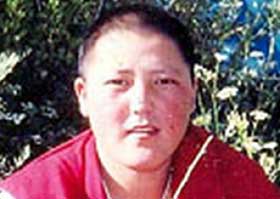 On Nov. 19, authorities in Kandze County in Sichuan Province released the nun who has a serious health condition as a result of beating by jail officials during two years of imprisonment, UNPO reports.
Oslo-based Voice of Tibet on November 25 cited monk Pema Tsewang of Sera Monastery with sources in Kandze as saying the nun, called Taga (Tashi Yangzom or Yangtso), had two fractures in her right arm, was hearing impaired in her right ear and suffered from tuberculosis and respiratory complications.
She was said to be currently receiving treatment at a hospital in the provincial capital Chengdu.
Taga was arrested on May 20, 2008 with two other nuns, Achoe and Sochoe, after the trio staged a protest against the Chinese government at Dhargay Gonpa. The three were nuns of Tehor Nyagay Nunnery. Achoe belongs to Rida Village, Soe Choekyi to Lamna Village and Taga to Noekab Village.
The three nuns were taken to a detention centre in Chengdu where they were severely tortured. Sochoe and Achoe were released after their health conditions made them likely to die in prison.
The arrest of the three nuns took place around the time 12 nuns of Drakar Nunnery, 55 nuns of Pang-ri Nunnery and several other nuns from Ganden Choeling Nunnery in Kardze County were detained for staging a protest.