Home Asia Pacific North Asia China


'Immortal' body found after 32 years
Global Times/Strait Metropolis Daily, December 9, 2010
Longhai, China -- The "immortal" body of a woman who passed away in 1978 at a temple in Longhai city, Fujian Province is being gilded as a Buddha after it was discovered undecayed in a large jar by workers doing repairs on November 30.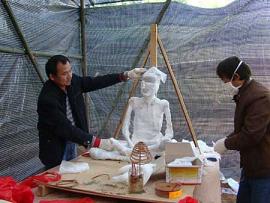 << Photo: North Network
The well-preserved woman was identified at Zhou Gu who had been a laywoman at Linqianyan Temple, according to Liao Deyan, a man who sculpts Buddhas at the temple. "There was no trace of decay on her body or clothing. No odor, either," he said. "There was no lime or charcoal in the jar. It's a miracle the body was preserved so well."
According to Chen Yiquan, deputy secretary general of the Xiangcheng district Buddhism committee, a vegetarian diet is a key factor in leaving an immortal body.
"Her hands and feet could still be moved, and from her expression, it must have been quite peaceful when she passed away," said Liao, as he wrapped her body in gauze to make her into a "golden statue."