Home Asia Pacific North Asia Taiwan


Taiwan's Buddhist rites "killing millions" of animals
Channel News Asia, 13 May 2012
TAIPEI, Taiwan -- Tens of millions of animals, mostly fish and birds, are dying every year in Taiwan because of so-called "mercy releases" by Buddhists trying to improve their karma, according to animal welfare activists.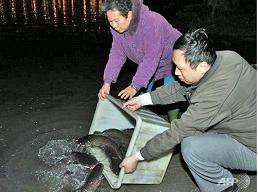 The government is now planning to ban the practice, saying it damages the environment and that a large proportion of the 200 million or so creatures released each year die or are injured due to a lack of food and habitat.
Around 750 such ceremonies are carried out in Taiwan each year, according to the Environment and Animal Society of Taiwan.
Negotiations have seen some groups agreeing to halt the practice, but others have yet to accept a ban, Lin Kuo-chang, an official from the government's Council of Agriculture, told AFP on Sunday.
Proposed amendments to current wildlife protection laws would see offenders facing up to two years in jail or fined up to 2.5 million Taiwan dollars (US$85,000) for such unauthorised releases, he said.