Home Asia Pacific North Asia Taiwan


Buddhism brings out the best in actors
Taipei Times, Oct 29, 2005
Taipei, Taiwan -- The power of religion can never be underestimated. Jet Li and diva-turned-housewife Brigitte Lin, both absent from the local celebrity scene for years, jointly attended a Buddhist ceremony at Dhama Drum Mountain last Friday.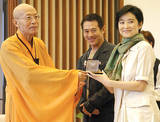 << Religion brings out the best in Jet Li, Ma Ying-jeou and Lin Hwai-min.
PHOTO: TAIPEI TIMES
Local media besieged the two visitors with questions. Accompanied by Taipei City Mayor Ma Ying-jeou and international choreographers Lin Hwai-min, Lin, the mother of three daughters, appeared to keep a low profile by flashing low wattage smiles.
A devoted follower of Buddhism, Li said he would spend half of his time practicing Buddhism after ending his career as a kung-fu action star. Fame and power are no longer of interest, Li said, and he is now keen to make documentaries on the religion to let more people know about it.
So look out Li fans, if martial-art movie Huo Yuan-jia was his last you will only see doing public-service flicks for Buddhism in the future.