Home Asia Pacific North Asia Taiwan


Buddhist Tzu Chi Foundation receives U.S. environmental award
China Post, April 18, 2007
TAIPEI, Taiwan -- The Buddhist Compassionate Relief Tzu Chi Foundation received an Environmental Award from the United States' Environmental Protection Agency (EPA), a spokesman of the foundation said yesterday.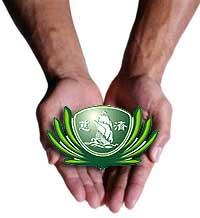 The Environmental Award ceremony was held April 17 at the EPA building in San Francisco.

According to the spokesman, the awards were given every year by the EPA's Region 9 to groups or individuals who have made contributions to public health or the environment in the past year in California, Arizona, Nevada, Hawaii, or the Pacific Islands.

A total of 160 groups and individuals were nominated for the award. Among them, Tzu Chi was nominated by Director of San Francisco's Department os Environment, Jared Blumenfeld, and was one of the seven winners in the San francisco Bay Area, and one of 38 winners of the whole region this year, the spokesman said.

The foundation, encouraged by its founder Master Cheng Yen to "convert trash to treasure, " started a recycling business in 1990, the spokesman said, adding that Tzu Chi volunteers had recycled over 1 million pounds of resources along the West Coast of the United States during the previous year.

The award came in recognition of the foundation's efforts in resources recycling, environmental protection education programs at Tzu Chi Academies around the United States,and enthusiastic participation in San Francisco City's environmental protection activities, the spokesman said.