Home Asia Pacific North Asia Taiwan


Tzu Chi offers medical aid to quake victims in Indonesia
CNA, September 19, 2007
TAIPEI, Taiwan -- A disaster relief team from the Taiwan-based Buddhist Compassion Relief Tzu Chi Foundation has arrived to provide medical aid in the earthquake-affected Kota Agung Hamlet in Bengkulu Province, Indonesia, a spokesman of the foundation said yesterday.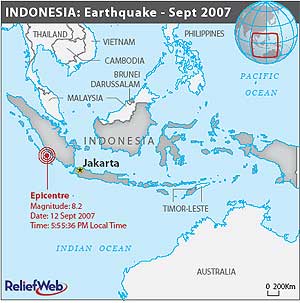 An 8.2 magnitude earthquake struck off the west coast of Indonesia Sept. 12, and was followed by many aftershocks, causing 23 deaths and leaving tens of thousands of homes flattened or damaged.
According to the spokesman, residents of 75 households, mostly women and children, have pitched tents in the sports field of a local school seeking shelter from the destructive waves they expect to be triggered by the earthquakes.
Four medical personnel of the disaster relief team made a makeshift care center at the temporary shelter to bandage victims' wounds and administer medicine to those who are ill, the spokesman said.
Other team members delivered bottled water, instant noodles, and cookies to help local victims survive their difficult time at the shelter bereft of ready supplies of drinking water and kitchen facilities, the spokesman said.
The team is the first disaster relief group to arrive at the hamlet, the spokesman said, adding that the team had also planned to visit other communities, but was frustrated by landslides blocking roads in the area.