Home Asia Pacific Oceania Australia


Finally, Buddhists to get their temple in Adelaide's north
by Sarah Rohweder, Adelaide Now, November 11, 2015
Adelaide, Australia -- A BUDDHIST temple that will stand about as tall as a seven-storey apartment building will be built along Salisbury Highway at Parafield Gardens.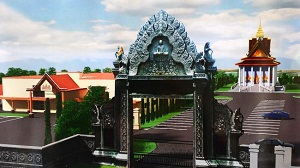 << An early artist's impression of the temple, to be built by the Khmer Buddhist Association. It has been revised from 22m to 16m.
The SA Khmer Buddhist Association was last week granted planning approval for the temple, which also features 9m-high ornamental gates, by Salisbury Council's development panel.
It was the third application the association had lodged in the past two years, following resident concerns that the temple – originally measuring 23m-tall – was out of character with the area because of its height and the shadow expected to be cast over nearby homes.
It would have been the largest temple in Australia, eclipsing a 17m-tall temple in Queensland.
The new measurements will just fall short of the giant 18m-high Buddhist statue at Sellicks Hill.
It will span 215sqm and is expected to cost the association about $3 million to build.