Home Asia Pacific Oceania Australia


Second woman missing from Sakya International Buddhist retreat found in Buchan bushland
by Marissa Calligeros, The Age, January 19, 2016
Melbourne, Australia -- A woman was lost in the bush for 27 hours at Victorian Buddhist retreat, just one week after another guest was lost in the bush for five days.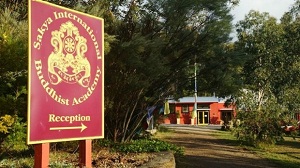 << The Sakya International Buddhist retreat in W Tree.

The woman, 44, went missing on Monday from the Sakya International Buddhist Academy in W Tree, near the small town of Buchan about four hours east of Melbourne.

It is understood the woman went for a bushwalk alone about 9.30am and did not return.

She was found nearly 27 hours later by police, about 11.45am on Tuesday.
Advertisement

She was "disoriented" and about five minutes' walk from the retreat, a police spokeswoman said.

Last week, Dutch national Veronique Biunkens, 41, was missing for five days after setting out alone for a bushwalk from the same Buddhist retreat.

Ms Biunkens became lost on Thursday, January 7, but was not reported missing to police for five days.

She was eventually found near a creek in bushland on Tuesday, January 12.

A police spokeswoman said investigators were trying to establish why she was only reported missing on January 11, despite being missing for five days.