Home Asia Pacific Oceania Australia


Buddhist primary school in Springvale South a first for Melbourne
The Buddhist Channel, February 22, 2016
Melbourne, Australia -- SPRINGVALE South is home to Melbourne's first Buddhist primary school.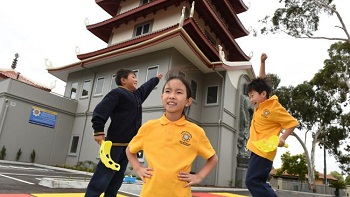 << Greater Dandenong Leader Students Darren, Vicky and Ethan enjoy their new Buddhist primary school in Springvale South. Picture: Chris Eastman

Hoa Nghiem Primary School, which opened earlier this year, has 16 students from prep to grade 4, but will expand to grade 6 next year.

Principal Jacqui Bosman said founder Thich Thien Tam and Sister Thich Thuoc Uyen, of the Hoa Nghiem Buddhist Temple, saw a need for the school to service the local Buddhist community and the wider Springvale community.

"The feeling was there is a real place in today's society for a school that is founded on belief, compassion and critical thinking," Ms Bosman said. "We devote a lot of time developing children's critical thinking capacity, to question and analyse what they see in the world."

While it is the only Buddhist primary school in Melbourne, there is another one in Daylesford and there are some high schools across Australia.

Ms Bosman said she was heartened by the response to the school in its first year because "in some respects … it is a leap of faith". She said students predominantly came from Buddhist backgrounds.