Home Asia Pacific South East Asia Myanmar


Buddhist Sangha conference to begin on Sunday
Eleven Myanmar, 9 May 2014
Kabaaye, Myanmar -- An all-sect Buddhist conference will be held at Mahapathana Cave in Yangon's Kabaaye Highland from May 11 to 13, according to the regional Sangha association.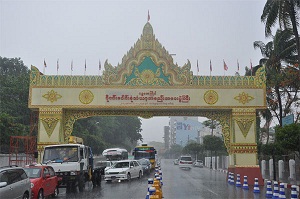 << A welcoming archway on Kabaaye pagoda road for all-sect Sanghas conference (Photo-EMG)
The State Sangha Maha Nayaka Committee will lead the fifth conference which was originally held every five years since 1980. The fourth conference took place in 1995.
All in all 2558 Sangha representatives from each state and region will attend the conference, being held in the Buddhist calendar year of 2558.
"For the development of the dispensation, 2558 all-sect Sanghas from each state and region representing more than 500 000 sanghas are going to carry it out cohesively," said Badanda Thumana, the chairperson for the Yangon Region Sangha association.
In the conference, the procedures, instructions, and principles will be discussed in line with The Buddha's teachings to purify and prolong the Buddhist faith.