Home Asia Pacific South East Asia Myanmar


Quake shakes historic Myanmar temples
AP, July 17, 2005
Yangon, Myanmar -- A moderate earthquake shook Myanmar's main archaeological site in the ancient capital of Bagan today, an official said. No damage was reported.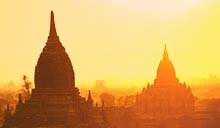 << Temples at Bagan, Myanmar
The magnitude-5.5 quake hit at 7:35 a.m. (0635 IST), the official at the Government's Seismic Department said. Residents of Bagan contacted by phone said they hardly felt the tremor.
The quake was centered near Nyaung-U, 430 km. north of Yangon, said the official, who spoke on condition of anonymity. Nyaung-U is about 11 km. from Bagan, which has thousands of 11th and 12th century Buddhist stupas and temples.