Home Asia Pacific South East Asia Myanmar


Buddhist monks release hostages
The Times (AFP), September 7, 2007
YANGON, Myanmar -- Buddhist monks in central Burma have released all of the 20 hostages they seized yesterday, ending a confrontation with the military Government, according to local residents.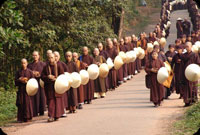 On Wednesday troops fired warning shots into the air to break up a crowd of about 300 monks who were protesting over a massive rise in fuel prices.

At least three monks were injured when soldiers beat them with bamboo sticks.

Local and security officials went to the monastery to apologise for the violence, but the monks took them hostage.

A first group of five hostages were released after being held for about five hours inside a teaching temple in the town of Pakokku, 310 miles (500km) north of the country's commercial capital, Rangoon.

The other 15, mainly local and security officials, were released 45 minutes later. The monks had set four of the officials' cars on fire and flipped over their two remaining cars, forcing the officials to leave on foot through a back door.

"It's good the monks did this. The monks are showing the reality of what's happening here to the world," one resident said.

The showdown is the most serious confrontation with the Government since antijunta protests broke out more than two weeks ago.