Home Asia Pacific South East Asia Myanmar


Myanmar's Shwedagon Temple Damaged
National Geographic, May 14, 2008
Yangon, Myanmar -- Constructed 2,500 years ago, the complex is one of Myanmar's most famous landmarks and is among the many holy sites that were severely damaged by the storm.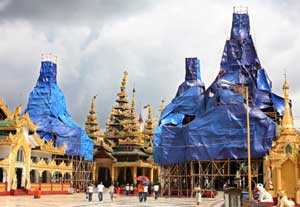 << Blue tarps drape the spires of the ancient Shwedagon Paya temple complex in Yangon, Myanmar (Burma), on May 12, nine days after Cyclone Nargis ripped through the region.
One of the world's largest Buddhist shrines, Shwedagon Paya is crowded with ornate, multi-tiered pagodas and dome-shaped stupa trimmed in gold, some encrusted with jewels.
Several panels covered in gold leaf were stripped from the temple's giant 320-foot (98-meter) domed shrine by the cyclone's 120 mile-an-hour (190 kilometer-an-hour) winds, according to the Reuters news service.
More than a thousand precious stones, including rubies, emeralds, and sapphires, were also dislodged from the surface of the structure.
Authorities closed the complex, which was undergoing renovations when the cyclone struck, for five days to clean up and make repairs.
Shwedagon Paya reopened on May 10, as worshippers streamed in to pray and give thanks for their survival, Reuters reported.