Home Asia Pacific South East Asia Thailand


Monk protest in Bangkok against Bangladesh unrest
CNA, October 4, 2012
BANGKOK, Thailand -- About 300 Buddhist monks demonstrated in the Thai capital Bangkok on Wednesday against recent attacks by Muslim mobs targeting temples and houses in Bangladesh.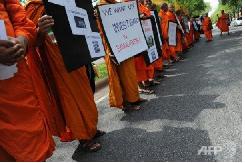 << Bangladeshi monks studying Buddhism in Thailand display signs and pictures of destruction in their country as they hold a demonstration calling for an end to attacks against Buddhist communities in Bangladesh, in front of the United Nations regional office in Bangkok. (AFP - Christophe Archambault)
Holding signs reading "No More Violence We Want Peace" and "Stop Muslim Terrorism on Bangladesh Buddhist", the monks from Bangladesh, Myanmar, Vietnam and Thailand massed outside the UN offices to call for a probe into the unrest.
"We don't want to blame anyone, but we want this barbaric incident to stop because now Buddhist followers have to seek protection from police around the clock," one of the event organisers, Kanraya Tasanasarit, told AFP.
Bangladesh police said Tuesday they had arrested nearly 300 people in connection with the violence, which saw Buddhist temples and homes damaged or set on fire.
Buddhists, who make up less than one per cent of Bangladesh's 153 million mostly Muslim population, are based mainly in southeastern districts, close to the border with Buddhist-majority Myanmar.
Sectarian tensions have been running high since June when deadly clashes erupted between Buddhists and Muslim Rohingyas in Myanmar's western Rakhine state.