Home Asia Pacific South East Asia Thailand


Thailand celebrates Songkran with a splash
CCTV.com, Apr 13, 2015
Bangkok, Thailand -- Buddhist New Year celebrations have begun in nations across South East Asia, with lively water-throwing festivities.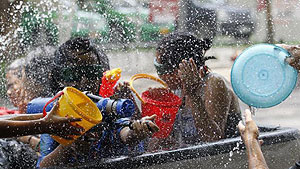 Locals believe water symbolizes the washing away of bad luck from the previous year, and starting fresh in the new year.
In the Thai capital Bangkok, both locals and foreign tourists armed themselves with toy water guns to spray each other in the traditional festival known as Songkran.
Each year during the holiday season, Thais pray and perform good deeds to monks, an act known as "making merit". Some also sprinkle traditional fragrant water on Buddha statues to pay their respects.