Home Asia Pacific South East Asia Thailand


Revered Thai abbot discharged from hospital
Bangkok Post, July 4, 2005
Nakhon Ratchasima, Thailand -- Luang Phor Koon, the revered abbot suffering from chronic heart and stroke-related conditions, was discharged from hospital yesterday but did not return to his Ban Rai temple in Dan Khunthod district.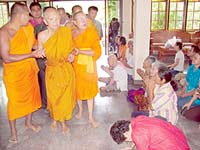 << Luang Phor Koon, the well-known abbot of Wat Ban Rai, is helped by other monks on arrival at Nong Bua Rong temple in Nakhon Ratchasima. ? PRASIT TANGPRASERT
The monk instead chose to stay at Wat Nong Bua Rong in Muang district where he will spend the rest of the monsoon retreat over the next three months. No reason was given for his refusal to return to Wat Ban Rai, his own temple.
The monk had complained about conflicts among his followers at the temple and took refuge at Wat Nong Bua Rong for a rest.
Dr Pinitjai Nakkapan, the abbot's physician, said Luang Phor Koon, who was treated for complications caused by a stroke earlier this year, had fully recovered. The monk, with a history of heavy smoking, was not allowed to receive visitors.
Luang Phor Koon said his disciples should not worry about his health.