Home Asia Pacific South East Asia Thailand


Makha Bucha in the rain
TNA, Feb 13, 2006
Bangklok, Thailand -- Many Buddhists in the capital and other provinces braved unseasonal sporadic rainstorms to give alms to monks to mark Makha Bucha Day today (Monday), a national holiday which marks the first sermon of the Lord Buddha following his Enlightenment.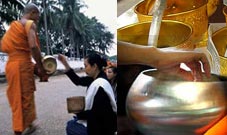 Not particularly a festival, Macha Bucha is a Buddhist holy day and marks a point in history when 1,250 of the Lord Buddha's followers gathered to hear his sermon. Macha Bucha Day is a day when worshipers to walk three times around temples in a bid to make merit. In Bangkok processions usually start at around 8 p.m.
Makha Bucha is very much a part of living Buddhism. People older than 50 gave more significance to Makha Bucha Day than Valentine's Day, while young adults under 30 were less concerned regarding the traditional Buddhist holiday -- but still intended to participate in religious activities such as alms giving.
Religious activities of Bangkok residents on Makha Bucha Day also mean increased spending of various specialties such as instant foods for alms giving, canned foods and necessities for monks such as robes, incense and candles.
The first Macha Bucha, nine months after the Buddha's Enlightenment, was on the full moon day of the 3rd lunar month, Makha, when 1,250 Sangha followers, came to see the Buddha without prior schedule or intention.
All were "Arhantas', Enlightened Ones or saints ordained by the Buddha himself.