Home Asia Pacific South East Asia Thailand


Buddhist protesters dial up the pressure
Reuters, Feb 28, 2006
BANGKOK, Thailand -- Buddhist "Dharma Army" protesters kept up their campaign for the resignation of Thai Prime Minister Thaksin Shinawatra yesterday, the morning after the largest anti-Government rally in 14 years.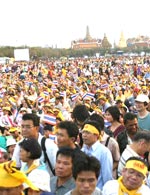 << Thousands were yesterday demanding Thaksin Shinawatra step down.
As workers completed the clean-up after Sunday evening's protest, which police said had peaked at 50,000, 1500 supporters of lead demonstrator Chamlong Srimuang led a prayer session in front of Bangkok's golden-spired Grand Palace.
Chamlong, an ascetic 70-year-old general who led a successful but bloody "people power" uprising against a military Government in 1992, is hoping others will join him in putting the pressure on Thaksin.
A former telecoms tycoon, Thaksin won a second consecutive landslide election 12 months ago, but faces accusations of tailoring policy to suit his family's business.