Home Asia Pacific South East Asia Thailand


Buddha image commemorating HM the King's 60 years on throne to be placed in US
TNA, June 11, 2006
BANGKOK, Thailand -- A Buddha image in gold-plated bronze will be placed in Boston, Massachusetts, the United States, where His Majesty the King was born, according to the Ministry of Foreign Affairs.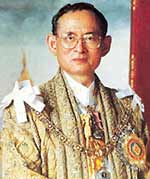 << His Majesty King Bhumipol Adulyadej, The King Of Thailand
The specially built Buddha image,199 centimetres high, will be enshrined at Wat Navaminrachuthit in Boston.
Another golden Buddha, weighing 609 baht (one baht equals 15.16 grams) and standing 60 centimetres, has been presented to His Majesty the King on the auspicious occasion of the 60th anniversary of His Majesty's accession to the throne this year.
Nine other Buddha images, in the same 60-centimetre-high size but cast in an alloy of gold, silver and bronze, will be presented to nine Royal temples in the kingdom.
All the Buddha images, built by a working party on celebrating the 60th anniversary of His Majesty the King's accession to the throne, are in the blessing posture.