Home Asia Pacific South East Asia Thailand


Buddhist Lent Candle Festival 2006
by Jacques Biermann, Pattaya Daily News, July 10, 2006
City rejoices in celebrating the Buddhist Lent, by creating an awe-inspiring Candle Festival 2006

Pattaya, Thailand -- Pattaya City Under Deputy Wuttisak Rermkitchakarn, together with members from his cabinet MPs, officially declared the Buddhist Lent Candle Festival 2006. The event took place on the 27 June, 2006 at a meeting room of Pattaya City Hall.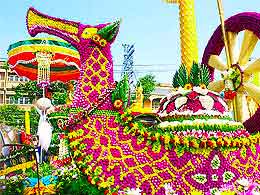 Pattaya City and The Department of Banglamung Culture and Arts were hosts for this special Buddhist Candle Festival. The event took place between 7 and 8 July.
The purpose of such event is to preserve the Buddhist traditions and a mark of respect for the Lord Buddha. The event featured on the 7th July began with a candle festival at Wat Poh in Naklua.
Contestants from Pattaya schools took place in such a special Buddhist event by creating impressive displays of meticulously hand-crafted candles.
Myriad colourful displays of great and small candles paraded along the streets of Naklua, creating a sea of magnificent sights to visitors from far and wide as they weaved their way through Beach Road and ended up at Wat Chaimongkol in South Pattaya.
Competitions for the best candle displays attracted a handsomely price of 30,000 TB. Winners for the creative candle displays went to Pattaya 9th School, Srisuvit School and Bohtisumbhan Bhittayakarn School, they each received a prize money of 30,000 Baht.