Home Asia Pacific South East Asia Thailand


Her Majesty has concern over Buddhist monks in deep South
The Nation, Oct 25,2006
Bangkok,Thailand -- Her Majesty the Queen has concern over safety of Buddhist monks in the deep South following last week's bomb attack, PM's Office Minister Khunying Dipavadee Meksawan said Wednesday.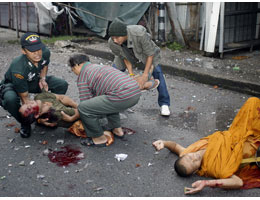 << An injured Buddhist monk cries for help as Thai security officers remove the dead body of their coleague at the bomb site in Narathiwat province
The Queen was speaking to reporter before leaving on a plane to the deep South.
She said she would visit Buddhist monks to provide morale support in line with Her Majesty's wish for the government to take care of the monks.
Dipavadee said she would also discuss security measures with abbots of Buddhist temples in the southern border provinces before relaying their proposals to the government for stepping security measures for the monks.
In the bombing incident at Narathiwat, militants used a mobile phone to detonate a 5kg bomb hidden in a rubbish bin as soldiers accompanied five Buddhist monks to protect them as they sought alms, police said.
The change in the Thai political situation, which resulted in a coup against the previous government led by Thaksin Shinawatra have not apparently been effective to stem the violence in the country's south.