Home Asia Pacific South East Asia Thailand


Container full of Buddhist artifacts bound for America intercepted at the Laem Chabang Port
Pattaya City News, November 15, 2006
Pattaya, Thailand -- The export of statues and other items relating to Thai culture and religion is big business but some items, including original artifacts are not permitted to be exported and those attempting to do so are liable for prosecution.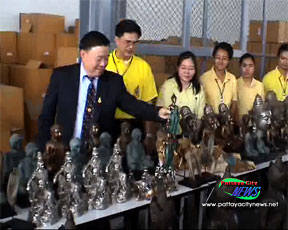 << 523 statues valued at over 10 Million Baht (US$ 260,000) are now being held by Thai customs
This case from the Laem Chabang Port, 25kms outside of Pattaya was overseen by Dr. Satit, the Director-General of the Customs Department at the Port. Using a portable x-ray machine they discovered a container full of Buddhist Artifacts which did not match the documents relating to the container which stated that inside was furniture.
The container originated from the SSM Logistics Company based in Bangkok and was due to be sent to America on 29th November on the CSCL Felixstowe Container Ship.
A total of 523 statues valued at over 10 Million Baht are now being held by Customs who also found a catalogue inside the container where items such as these can be ordered via the internet.