Home Asia Pacific South East Asia Thailand


Big Buddha in Phuket 80% completed
Thaisnews, March 20, 2007
Phuket, Thailand -- The casting of "Phra Buddha Ming Mongkhol Ake Naga Khiri, being enshrined on the hill top of Nakkerd Hill in Karon sub-district is now reported to be 80 % in progress.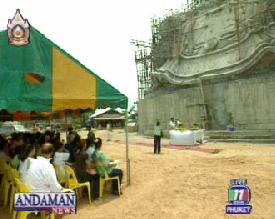 Just last Saturday, a group of Buddhists gathered to make merit and take part in a ritual ceremony for the pebbles before they were put in the cement mixers for the image casting.
Taking part in Buddha casting is believed to be blessed and bring prosperity and peace for Buddhists.
Phra Buddha Ming Mongkhol Ake Naga Khiri is the Master Buddha Image being casted with reinforced concrete in Maravichai style, having 25 meters in width and 45 meters in height. The construction on the hill-top is permitted by the Forestry Department.
More details are on www.mingmongkolphuket.com