Home Asia Pacific South East Asia Thailand


Thai PM calls on Buddhist to help build global peace
TNA, Dec 9, 2004
BANGKOK, Thailand -- Prime Minister Thaksin Shinawatra today called on the world?s Buddhist community to help build sustainable global peace.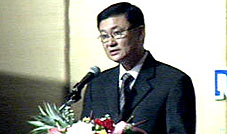 Giving a keynote address at the 4th World Buddhist Summit in the Myanmar capital of Yangon, the prime minister said that globalization was dissolving local cultures and traditions to create a new global community.
But this, in turn, had led to racism, cultural discrimination and a strict division between ?them and us?.
?We can see hatred, racial and religious discord, and what is worse, violence and terrorism, in several parts of the world. This has become a global threat. It is vital that every person, regardless of their religious affiliation, promotes patience, reconciliation and the Middle Way in accordance with Buddhist teachings?, he said.
Calling on Buddhists everywhere to help generate sustainable global peace, he said that the Buddhist community should help disseminate the teachings of the Lord Buddha.
The Thai leader left for Yangon for an one-day visit to Myanmar this morning to attend the
4th World Buddhist Summit.
He returned to Bangkok this afternoon.