Home Asia Pacific South East Asia Thailand


Thailand: Buddhism as state religion gets thumbs-down
Bangkok Post, June 4, 2007
Bangkok, Thailand -- The Constitution Drafting Committee (CDC) has rejected calls to make Buddhism the state religion, the chairman said on Monday.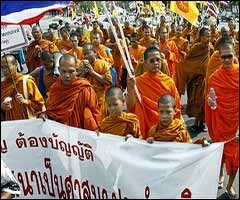 << Thai monks rally for Buddhism as state religion of Thailand (Filepic)
Squadron Leader Prasong Soonsiri said that the CDC will not amend its article on religion in the charter it is rushing to prepare for a referendum tentatively scheduled for August.
Sqn-Ldr Prasong said the CDC met on Monday to consider amendments to the draft which would have made Buddhism the state religion for the first time in Thai history. The article is in the charter section on people's rights, liberties, participation, and decentralisation.
"As for the issue of Buddhism as the state religion," he said, "Buddhism, which is the religion of the majority of Thai people, as well as (all) other religions, must be protected and promoted equally."
Previous Thai constitutions had stressed freedom of religion, and have never given a special place to any single religion. His Majesty the King is considered the protector of all religions, although he must be a Buddhist.
On Monday morning, a group called Representatives of the Buddhist Organisation submitted a petition to CDC Member Phichian Amnatworaprasert, requesting that the CDC designate Buddhism as the national religion.
At the same time, the Council for Buddhist Organisations and a number of monks gathered in front of Parliament House in Bangkok to demand the new constitution recognise Buddhism as the state religion.