Home Asia Pacific South East Asia Thailand


Queen Sirikit orders food sent to monks in southern Thailand
TNA, July 26, 2007
BANGKOK, Thailand -- Her Majesty Queen Sirikit has ordered the Bureau of the Royal Household to send rice and dried food to Buddhist monks who are travelling to stay at temples in the four southern border provinces during the three-month Buddhist Lent.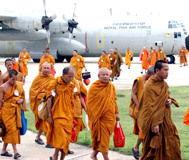 << A group of monks arrive at Narathiwat's Ban Thorn airport yesterday (Photo: The Nation)
Gen. Napol Boontab, director of royally-sponsored projects, said that 350 monks travelled to stay at temples in Yala, Pattani, Narathiwat, and Songkhla to boost the morale of Buddhists in the strife-torn south.
Local Buddhist villagers now can go to make merit at a local temple because there are now monks living there to welcome them.
Some Buddhist monks had earlier abandoned temples in the three Muslim-majority southern provinces due to insurgent attacks on Buddhist monks.
Meanwhile, Phra Kru Adulnikomket, abbot of Wat Kuhapimuk in Yala, called for the government to continue using reconciliatory approaches to tackle unrest and use decisive measures to protect innocent people and to bring peace to the region.
Rules for Buddhist monks require that they remain at temples during the Buddhist Lent, the beginning of the rainy season, and that they not leave their temples to stay overnight somewhere else during the three- month period, as in former times, as Buddhist monks who travelled during the rainy season might walk through paddy fields and cause damage to farmers' tender new rice transplantings.