Home Asia Pacific South East Asia Thailand


Highly-revered monk Phra Panya dies in Bangkok hospital
TNA, Oct 10, 2007
BANGKOK, Thailand -- Highly-revered Buddhist monk Panyanandha Bhikkhu died at the age of 96 at Siriraj hospital on Wednesday morning.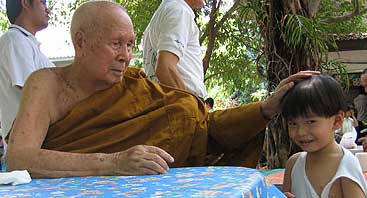 Doctors said he died of kidney failure and pneumonia.

The venerable Phra Panya was abbot of Cholpratan Rangsarait in suburban Nonthaburi north of Bangkok.

Ordained as a novice when he was 18 years old, Phra Panya entered the monkhood at the age of 20 in Nanglad temple in the southern province of Phatthalung.

He joined an Italian monk on pilgrimage to Myanmar to teach Buddhism and went back to stay at Suan Mokkh, a forest Dhamma centre in Surat Thani.

At Suan Mokkh, he dedicated his life to Buddha's teaching together with his peers, including the late Phra Buddhadasa Bhikkhu, the venerable monk who was entered on Unesco's list of great international personalities in 2005.

Thais and foreigners alike visit Suan Mokkh for retreat and to find the core principles of Buddha's teachings for peaceful lives.

In 1949, Phra Panya moved to the northern province of Chiang Mai and widely presented sermons outside the temple compound on Buddhist holy days, delivering messages by loudspeaker from 'song-tao' minibuses, and achieved a significant literary following by writing about Buddhist teachings in a local newspaper.

He travelled to Europe to teach Buddhists and set up Sunday schools to teach dharma for children in the compound of the Cholpratan Rangsarit temple in 1969.