Home Asia Pacific South East Asia Thailand


Thai forensic expert performs rites for victims
The Nation, October 29, 2004
Bangkok, Thailand -- Khunying Dr Pornthip Rojanasunand, the first forensic doctor to examine the bodies of the 78 Tak Bai protesters who died while in the back of Army trucks, yesterday performed Buddhist rites dedicated to the victims.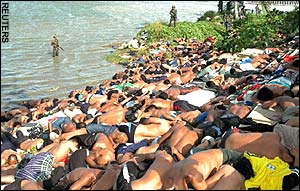 "Although those who died at the protest were Muslims, I believe they should certainly receive the merits from me. I also pray for the violence in the southern provinces to end as soon as possible," the doctor said.
She said she performed the religious rite because she felt upset and hurt by what happened.
At first it was reported that only six were killed in Tak Bai district on Monday, but Pornthip revealed the other 78 deaths to the public on Tuesday after examining the bodies.
She said the protesters died of suffocation and heat stroke after being crammed into Army trucks for the drive from Narathiwat to an Army camp in Pattani.
Scepticism surrounding the deaths of the 78 has put pressure on Pornthip, who is known for her expertise and willingness to fight for justice.
She has received threats in the past while battling corrupt police and public prosecutors.
"I feel bad that I have been criticised as having whitewashed the results of my autopsies on the protesters [to benefit the government],'' she said.
"I just do my duty. I love my country and don't like taking revenge. What happened in Narathiwat has suspended all attempts to end the southern violence."The results of tests on the victims' tears - to test their alcohol level - are expected next week, she added.