Home Asia Pacific South East Asia Thailand


Thailand gets tough on alms
TNA, March 29, 2005
BANGKOK, Thailand -- The government yesterday pledged to get tough on the alms trade, warning traders who sell dirty or rotten food to members of the public wishing to donate it to monks that they could face prison sentences of up to two years.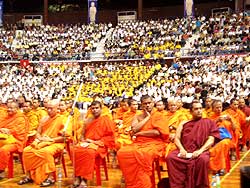 The move follows a request to the FDA from the Bureau of National Buddhism for FDA officials to inspect ready-prepared food sold in areas near to where monks make their morning alms rounds, as many monks have apparently complained of being offered food that is dirty or has been left to stand overnight.
Yesterday FDA Secretary-General Pakdee Pothisiri said that the FDA was now sending out mobile inspection units to morning markets across the country, and was asking provincial public health officials to conduct stringent inspections of the food being sold.
But he warned market traders who sold dirty or bad food that they were not only committing a sin, but also facing criminal charges, with custodial sentences of up to two years and fines of up to Bt20,000.