Home Asia Pacific South East Asia Cambodia


Cambodia enlists Buddhist monks to prevent bird flu
AP, Aug 9, 2006
PHNOM PENH, Cambodia -- Buddhist monks are being enlisted in Cambodia to help spread the word about preventing bird flu, which has killed six people in the country, an official said Wednesday.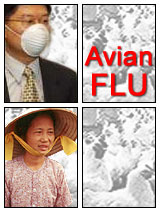 A series of workshops will be organized for monks and laymen in several provinces, said Kao Phal, director of the Agriculture Ministry's animal health department.
Noting that Buddhist monks have strong spiritual influence on people in the countryside, he said the government hoped they can help prevent bird flu by inserting messages about its dangers in their sermons.
He added that monks themselves were not immune to bird flu "since their daily food comes from people in their communities, and if the people use sick fowl to cook for them, that could potentially affect the monks' health."
The United Nations office in Cambodia said workshops will be held this month for monks and laymen at 2,538 pagodas in 11 provinces.
The disease, which began spreading in Asia in late 2003, has so far killed 137 people worldwide, including six in Cambodia.
Kao Phal said there has been no new outbreak recently in the country but field officials continue to look for suspected cases.
In the provinces, bird flu prevention training sessions for school directors and teachers are also being stepped up, the U.N. said in a statement.
It said teaching and learning materials about the virus jointly developed by its agencies in Cambodia and the government will be distributed to all schools in the country at the start of the new academic year in October.