Home Asia Pacific South East Asia Cambodia


Cambodian Buddhist monks engage in street brawl
AP, April 21, 2007
PHNOM PENH, Cambodia -- Two opposing groups of Buddhist monks clashed in the streets of the Cambodian capital Friday during a protest to demand religious freedom for their colleagues living across the border in southern Vietnam.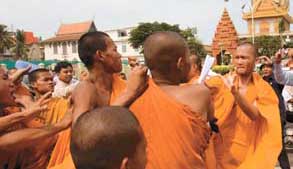 Some 50 monks marched through Phnom Penh to voice their grievances over the alleged mistreatment by Vietnamese authorities against Cambodian Buddhist monks in the country. They marchers said they came from southern Vietnam.

The protesters marched with banners demanding that Hanoi stop limiting religious freedom on ethnic Cambodians in southern Vietnam.

"The Vietnamese authorities have forced many Cambodian monks there to defrock," said Lim Yuth, who took part in the march. "As a Khmer race, we must have the right to practice our faith."

As the march made its way across the city Friday morning, another group of six monks confronted them outside a Buddhist temple. The groups clashed in a fist fight while some of the protesters also tossed water bottles at their opponents, witnesses said.

One monk was injured in the brawl, witnesses said.

It was not clear if the monks opposing the march were acting independently or under someone's orders.

Hanoi only permits a handful of state-sponsored religious organizations to operate in Vietnam, which has led to clashes with some religious groups, including Buddhists.

A large part of southern Vietnam, known in Cambodia as Kampuchea Krom, used to be part of Cambodia's mighty Khmer empire centuries ago and is still populated by many ethnic Cambodians.